Corporate Social Responsibility, or 'CSR' to use its acronym, is high on the agenda of many companies. Human Rights, Environment, Carbon Emissions and Ethics are all important areas of concern. From the start of Ital Logistics, we have always worked to high standards and with a strong ethic, never really advertising this fact.
In July 2022 we did our first assessment on EcoVadis, a globally recognised assessment platform that rates businesses' sustainability based on four key categories: environmental impact, labour and human rights standards, ethics, and procurement practices. We achieved Bronze with a score of 51/100, which was a good first assessment.
On re-assessment last month (August 2023), we were pleased to received an email today confirming we had increased our standard to Silver with a score of 61/100, placing us 79th percentile, in the top 25% of companies assessed on EcoVadis.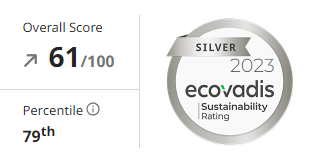 Whilst we have always operated with full consideration for all of the topics, our only real downside was that we haven't always documented the same in formal policies. As it just comes natural to us to operate correctly without 'being told what to do', it didn't seem high on the agenda to put it all in writing with a view to being assessed.
But prompted by a few of our customers to partake, we have done so, and it is indeed gratifying to have the confirmation that we are, indeed, 'doing it right'. We still have a few unwritten policies, despite our compliance, so by the next reassessment, we hope to increase the score further.
We have further initiatives underway which will be able to measure and report our clients' emissions on a job by job basis, not simply by using averages throughout, but for the parts of the journey where we have full control, we can quantify more accurately. It's a case of 'watch this space' for the moment, but within the next couple of months we should be all systems go.